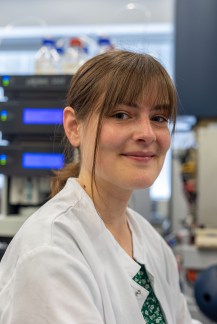 The Geoff Eglinton Presentation 2023
We are proud to announce that Janina Groninga, PhD student at MARUM in Bremen has been awarded this year's Geoff Eglinton Presentation based on her outstanding submission entitled "Unraveling Microbial Biomarker Signatures Obtained by Mass Spectrometry Imaging in Hydrothermal Sediment".
From over 200 submissions, the abstract was considered by the Scientific Committee as the one presenting the most innovative and groundbreaking research.
We congratulate Janina on this accomplishment and look forward to her presentation which will open IMOG 2023 on Monday 11 September.
View preview from Janina Groninga presentation
About The Geoff Eglinton Award
Contributions by the late Prof. Geoff Eglinton to the field of organic geochemistry are widely recognised. He was an inspiration for many in the field (Maxwell 2016) and has thus been honoured as the 'father of modern organic geochemistry'. To recognise his contribution the EAOG board, together with permission from Geoff's sons Tim and David, have created an award in his name. 
The basis of this new award will reflect Geoff's continual interest in exploring novel ideas, his use of new and innovative techniques, in addition to his passion for presenting his science. From the abstracts submitted for selection to the forthcoming IMOG, the Scientific Committee will decide on the abstract that it feels details the most innovative, novel and ground breaking research. 
The winner will then be invited to give an oral presentation – the Geoff Eglinton Presentation – that will open each IMOG meeting commencing 2021. This presentation will be allocated an extended time slot to reflect Geoff's penchant for talking about his science!
Pim van Bergen (EAOG Chair)
Maxwell (2016), Geoff Eglinton 1927–2016. A father of modern organic geochemistry, Organic Geochemistry 97, 163-165.